Edith Chinchay and Jhony Llantoy from central Peru have decided to make a living as farmers. With the support of our partner organisation CEDEPAS in Pichanaki, they grow first-class coffee beans. Some of their harvest is shipped directly to Switzerland, where the beans are hand-roasted and distributed as a speciality coffee called "café joven" by a creative small business in Basel. When we visit at the end of the rainy season in April 2021, Edith and Jhony will tell their story.
"My name is Edith Chinchay, ...
... I am 25 years old and live with my parents and a younger brother on our coffee farm. It is very remote. The nearest town, Pichanaki, is an hour and a half by car.
As a schoolgirl I had to walk two hours to school every day. Later, I trained as an interior decorator in Huancayo, the departmental capital, but then I couldn't find a job. That's why I went back to the coffee farm where I grew up.
With my parents we farm four hectares of coffee, and I'm responsible for one and a half hectares on my own. I also grow bananas and vegetables and have opened a small shop on the road where I sell vegetables and other food.
But coffee is my most important product and that's why I want to improve its quality. For the past three years, I have been taking part in the CEDEPAS training courses and have become a member of the APACE producers' association. CEDEPAS taught me how to process my coffee beans better so that I can achieve a better quality.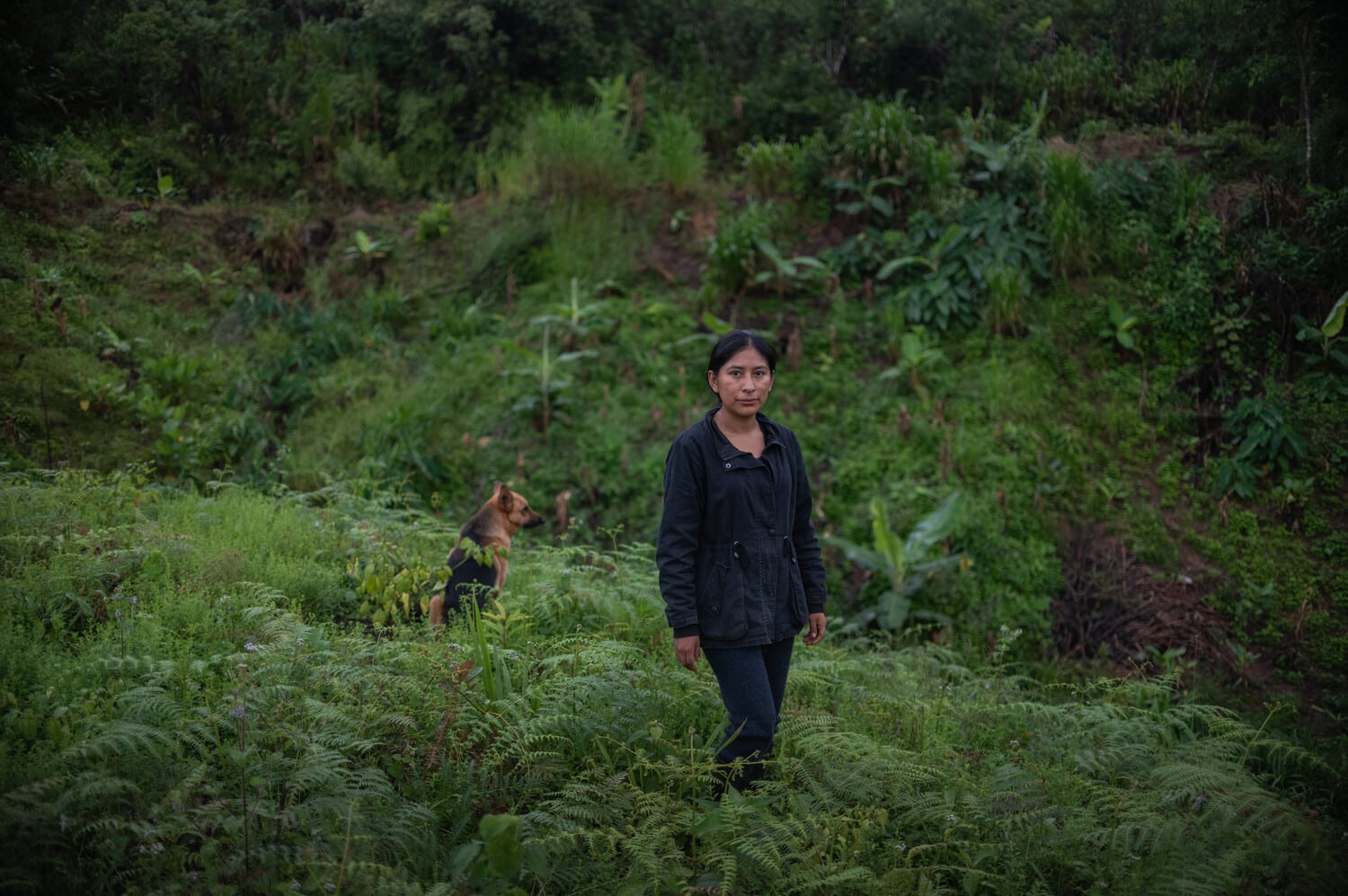 During the Corona pandemic, we could not harvest a large part of our coffee because no workers came and there was no transport. CEDEPAS helped us out with food. But above all, I am grateful to CEDEPAS because now I know how to build a new drying rack for the coffee so that the coffee will be good.
Now I just have to select good coffee beans, closely monitor the fermentation process and finally dry the coffee beans. I really hope that my coffee will make it into the next export shipment, which we can export directly to Switzerland thanks to CEDEPAS.
I dream of making my specialty coffee and running my own café. And I want to keep chickens and open a big shop for the farmers around here. Here I will also sell my homemade cakes and pies - of course with a good coffee from my own production.
A lot of people move to the city because they don't know any better, because they don't know what you can do here in the country. I hope my future kids will live in the country too, because here you can grow and be your own boss."
"My name is Jhony Llantoy, ...
...I am 32 years old, married and have two children. One child is nine years old, the other was born just a few weeks ago. Even as a child, I accompanied my parents to the coffee field at our finca (farm, editor's note) near the town of Pichanaki. Today I manage the coffee myself.
It's a good deal if you can make a top-notch specialty coffee and have a good handle on your finca. CEDEPAS has helped me to steadily improve the quality of my coffee. But they have also given us good tips in other ways. For example, I grow vegetables, keep chickens - that way we not only provide for ourselves, but also make ends meet when the money from the coffee harvest is used up.
CEDEPAS also helped us to set up our producers' association for young coffee farmers, APACE. There we are 60 young people and I am the president.
Three years ago, thanks to the mediation of CEDEPAS and terre des hommes switzerland, we were able to export our best specialty coffee directly to Switzerland for the first time. That was a great feeling, because exporting is very difficult for a small association or for me alone.
It has paid off financially. The profit is about 30 percent higher than when we sell at the local market. I remember in September 2018 we shipped the load and in December I got my cheque. That might have been a Merry Christmas, because otherwise the money from the harvest in July and August usually doesn't last until the end of the year.
My dream is that we, as a producers' association, can reach a common quality standard, produce more and export 100 percent of our production directly. To achieve this, we have to work on the quality of our coffee and on our organisation.
For small farmers or associations it is difficult to comply with all the necessary permits and requirements. At the moment we are in the process of organic certification. It would be great if our partners in Switzerland could open up further markets for our direct export.
None of this would have been possible without CEDEPAS. They showed us how to improve our coffee quality, but also how to organize ourselves, and they gave leadership training. We were also always allowed to use their office in Pichanaki for our meetings.
Sometimes CEDEPAS also supported us with a grant for the purchase of drying racks or with food when we had hardly any income during the Corona pandemic.
Many young people move from the country to the city because they think that you don't earn anything with agriculture. But that's not true. If you organize yourself well and improve your quality, then you can build a livelihood in the country and feed a family.
I found a good source of income with coffee because I had new ideas and focused on specialty coffee, which makes more money.
Recording: Hildegard Willer; Photos: Luisenrrique Becerra
More about the perspectives of young farmers in Central Peru and about our partner organisation CEDEPAS in the June magazine No. 2 2021 of terre des hommes switzerland. here
More about "café joven", which comes to Switzerland directly from central Peru and is roasted and distributed in Basel here