Abubakar Mutoka from terre des hommes schweiz coaches our partner organizations in northwestern Tanzania for psychosocial support, solution-focused approach and youth participation as a so-called technical advisor. He talks about his work and motivation for the better lives of youths, about the worries and hopes of the people in Tanzania, and tells us a wonderful success story from Kigoma.
Part 1: Abubakar Mutoka on his professional expertise, his motivation, and the guiding principles of his work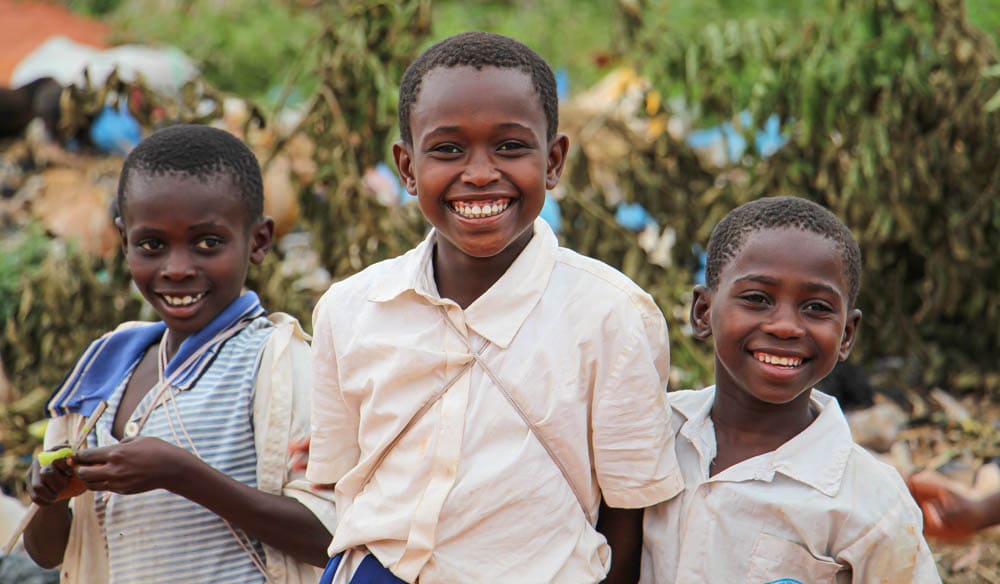 My name is Abubakar Mutoka. I am from the Democratic Republic of Congo and have been living in Tanzania for over twenty years. I have worked in different organizations. I worked with Tanzania Red Cross. I also worked with an institute for social work where I did my social studies, and then I worked as a tutor. When I started working as a program manager with Kividea, a youth focused organization in Kigoma, I got to know terre des hommes schweiz. Four years ago, I got the job as Technical Advisor of terre des hommes schweiz. Our office is in Dar es Salam. I do a lot of travelling.
In my role as Technical Advisor, I support our partner organisations in north-western Tanzania so that they skilfully apply psychosocial support, the solution-oriented approach and youth participation. I see my work as a kind of quality assurance measure. We ensure that our project partners are professional in their work with young people and their communities.
What motivates you in your work?
At first, working like this simply says it to me. When I finished my social work education, I started teaching and realized: I don't want to be a teacher. I'd rather make a difference directly with people, and that's what I do now. That's where you come into direct contact with young people and, in the best case scenario, you can help them. Through what we achieve together, I see how they progress on their path. That is a great joy for me. I see their lives change for the better. That is my motivation and that keeps me going myself.
It is not just about sending resources and money to the projects. We want to make sure that the projects help to achieve the empowerment of the youth in Tanzania. We want to put an end to violence and abuse. We are concerned with the dignity of all people and ensuring that their rights and well-being are sustainable.
Part 2: What concerns people in the Lake Zone

What is the situation in the northwest of Tanzania? What concerns the people and especially the young people?
Abubakar Mutoka: Most of our projects are located in the so-called Lake Zone around Lake Victoria, especially around the towns of Mwanza and Kagera. Kigoma, where terre des hommes switzerland has other projects, is a little further away on the border with the DR Congo and Burundi. Characteristic for this part of the country is: The Lake Zone is a very busy region with economic dynamics, an intensive fishing industry and also many mining areas.
On the social level, however, the situation is quite different. For example, the Kagera region, where the very first HIV case was registered in 1983, is still a region with a high HIV infection rate. There are many HIV and AIDS orphans and quite a few families who have been affected by the HIV epidemic over the years.
In other parts of the Lake Zone, especially Mwanza and some of the bordering regions, there is a high prevalence of gender-based violence (GBV), with numerous cases of child and teenage pregnancies. Many girls drop out of school because of their pregnancies.
Has the Corona crisis led to more cases of GBV and girl pregnancies?
Yes, you could say that. But of course, these problems were also a problem before the pandemic. The situation is quite complicated. There are no reliable figures on the new health crisis yet. However, many people are very aware of the threat. We in international development agencies are seeing some health impacts of the pandemic in the communities.
However, what worries the people from Kigoma or Kagera the most is that the connection to the neighbouring countries has become difficult. Many of them cannot go about their regular work, which often means crossing national borders. Some of our neighbouring countries like Rwanda and Uganda have imposed strict Covid 19 regulations. The borders have been closed for a long time, which prevents trade on a large and small scale.
What is the youth unemployment rate in the Lake Zone?
Youth unemployment is high across Tanzania, first of all for the simple reason that the proportion of young people in the country is very high. Around 70 percent are under 35 years old. For example, near one of our project areas is Geita, a region with a lot of mining and high unemployment, or else Kigoma, a remote region with a lack of basic facilities compared to other regions in Tanzania and with thousands and thousands of refugees from Burundi and the DR Congo. These are all factors that contribute to a high unemployment rate, especially youth unemployment.
Part 3: A new era with the new president?
Tanzania has a new president. Samia Suluhu Hassan is the first woman to rule the East African country. She is said to be communicative and conciliatory, to uphold freedom of expression and to take the pandemic seriously. It seems that a new era has begun with her.
Abubakar Mutoka: It is true, we are already seeing a change in government. Our new president has formed a health committee to advise the government. And two days ago, the government issued new guidelines and regulations for Covid-19.
We see a change in the tone and behaviour of our President. For example, only a short time after taking office, she has already met with representatives of the World Health Organisation (WHO) and went on a state visit to Kenya. These are all positive signs that a new era has begun. There is good reason to hope that things will improve for the people of Tanzania.
Will the change of president in Tanzania also result in positive changes for our partner organisations in the country?
We as terre des hommes switzerland work on issues such as sexual and reproductive health and rights and gender-based violence (GBV). We know that the former Tanzanian president's attitude towards issues such as family planning was not positive. With a woman at the helm of the country, the signs are good that things will move forward with gender justice and a policy of empowerment against sexual violence against women and children.
Part 4: What our Tanzanian partner organisations achieve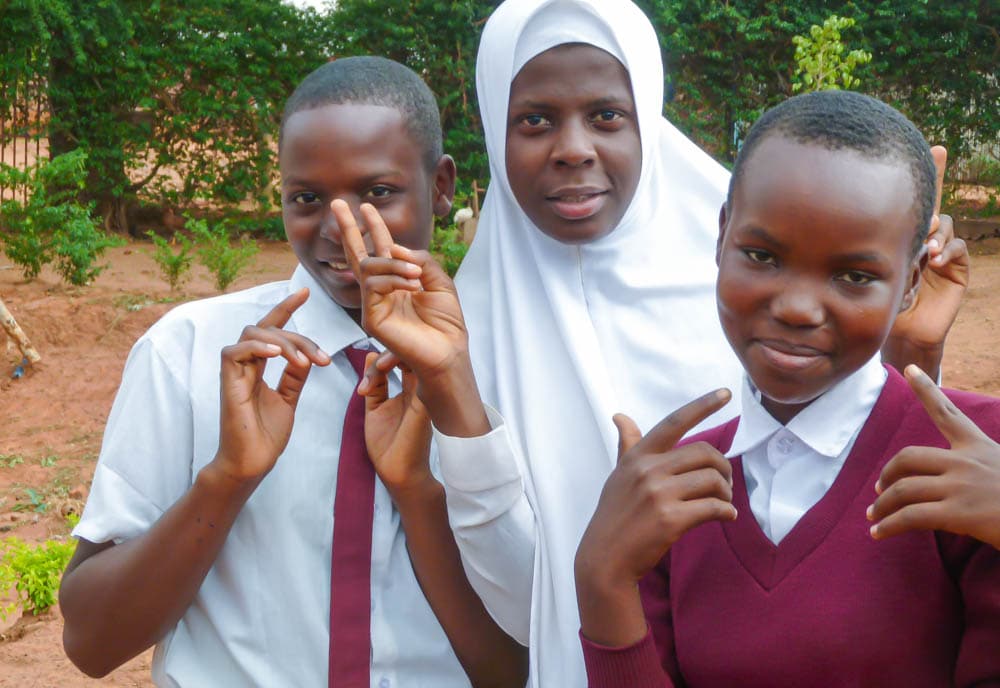 What distinguishes the work of our partner organisations in Tanzania?
Abubakar Mutoka: First of all, it is about issues relevant to the Sustainable Development Goals (SDGs). We advocate for greater access to sexual and reproductive health and rights, for the prevention and protection of violence against women and girls in particular, and for access to education for girls.
I've already talked about girls getting pregnant and dropping out of school for good. These are huge issues that are being addressed by the SGDs. They are also addressing HIV and AIDS, which, as I mentioned, are still very prevalent in the Lake Zone. All young people need to have access to information and health services in their communities.
What challenges do the partner organisations of terre des hommes switzerland face in their work with young people and their communities in the Lake Zone?
We work in communities with strong traditions. Sometimes they deprive girls and young women of their opportunities. They put women and children at risk of violence in their homes and communities. Sexual violence has a devastating impact on their education and their whole lives. Violated girls and young women are excluded from accessing basic life-saving services. This is why we do the work we do.
So what are you doing specifically?
We create awareness for basic human rights and against violence against women and girls and we help young people, their parents and communities to change discriminatory and violent practices and traditions for the better. We try to mobilize people to find solutions to their problems together and to be there for each other for a better life.
The solution-oriented approach is central to this. Working with this means helping young people to recognise their potential, their strengths and the opportunities that exist to have a good life. Together we explore what the young people can do with the resources they already have. In this way they can use their strength for themselves and thus also for the benefit of their social environment.
Part 5: Step by step to a better world
Does a success story spontaneously come to mind?
Abubakar Mutoka: Oh, I have so many examples! Let me share one of my favorite examples. I was still working in Kigoma in our partner organization Kividea. We had a workshop with young people on life skills. It was about assertiveness and confidence and how to resist peer pressure. We did a workshop on sexual and reproductive health and rights, puberty and the menstrual cycle.
There were girls from different villages, many of whom had experienced terrible things. Some came with their babies, others were pregnant and others had had an abortion. Most of them were no longer in school, had no meaningful work or were living on the streets.
One of the girls who had come with her baby and who was not well told us her story. She had been living with her mother, who was quite old. And because her mother had no way to make a living for the family, she used her daughter - her own girl - to have sex with strange men for money.
After the life skills training, the girl said, "You know what, you taught me a lot and I want to share this with you because after this training I found a solution for me. I'm going home now and I'm not going to sleep with strange men anymore."
And she went home and started selling vegetables in the village. After three months we visited the girl again in the village and she said, "I have saved money now. I moved out of home and now I rent my own room because I didn't want to live with my mother's pressure." Again a year later she had started keeping chickens. That was about five to six years ago. Today, this young woman owns a small tailoring business and hires other girls who are in the same situation she herself once came from.
This is a wonderful story of what solution focused life coaching, the right information and awareness can do for a young person who had no hope and were nobodies so to speak. Our work with them makes a big difference to them and their families. It gets them out of the cycle of violence and poverty and there is hope and a new beginning for them.